Kaliko Giancarlo
[[

]]

Basic Information

Weapon

Bastard Sword

DIA

Peacock

Gender

Female

Age

19

Birthday

20th April

Horoscope

Taurus

Height

4'11"

Weight

45 kg

Ethnicity

Hawaiian

Hair Color

Brown (dyed Pink)

Blood Type

B+

Status

Status

Active

Relations

Naomi (Mother)
Noel (Father)
Childhood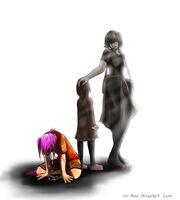 Kaliko's parents were rarely around for her during her childhood as they always had to work. Her mother eventually worked less and was around for her more.
After her father's disappearance, she put up the act of a spoiled brat, just to get more attention from her mother. Overtime, this developed into the sour personality she has today.
Crowbluff
Upon entering Crowbluff, she easily becomes infamous throughout the school as a 'spoiled little princess', as she would play dirty to get what she wants.
She developed a crush on one of the seniors and dyed her hair pink in hopes of catching his attention.
Project DIA
Ad blocker interference detected!
Wikia is a free-to-use site that makes money from advertising. We have a modified experience for viewers using ad blockers

Wikia is not accessible if you've made further modifications. Remove the custom ad blocker rule(s) and the page will load as expected.